Secret Ingredients
2 sweet bell peppers , halved lengthways (red, orange and yellow)
2 large garlic cloves , cut into thin slivers
2 tablespoons olive oil
3 tablespoons basil pesto
Salt & freshly ground black pepper (to taste)
Salt & freshly ground black pepper (to taste)
5 mozzarella cheese , boccocini cheese balls sliced (fresh mozzarella cheese sold in most grocery store deli's)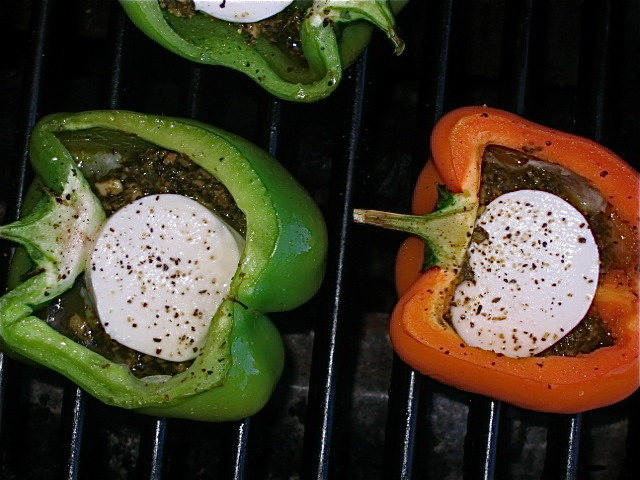 Secret Ingredients
2 sweet bell peppers , halved lengthways (red, orange and yellow)
2 large garlic cloves , cut into thin slivers
2 tablespoons olive oil
3 tablespoons basil pesto
Salt & freshly ground black pepper (to taste)
Salt & freshly ground black pepper (to taste)
5 mozzarella cheese , boccocini cheese balls sliced (fresh mozzarella cheese sold in most grocery store deli's)
Directions
Preheat the grill to 375 degrees F.
Scrape out the cores and seeds from the peppers.
Brush olive oil inside peppers and season cavity with salt and pepper.
Add a few slices of garlic to each pepper cavity and place on grill (cavity side up) until charred (approximately 3 minutes).
Add a spoonful of pesto to each of the peppers and slices of Boccocini cheese.
Continue to cook peppers until cheese in melted (approximately 3 minutes).
Serve right away.