Secret Ingredients
1 cup butter, softened
1 cup dark brown sugar (8oz)
1 cup sugar (7 oz)
1 1/4 cups peanut butter (11 7/8 oz)
1/2 teaspoon baking powder
1/2 teaspoon baking soda
1/2 teaspoon salt
2 large eggs
1 teaspoon vanilla
2 2/3 cups flour (11 1/4 oz)
1 1/4 cups chopped dry roasted salted peanuts (6 1/4 oz)
1 1/3 cups peanut butter chips (8 oz) or 1 1/3 cups chocolate chips (8 oz)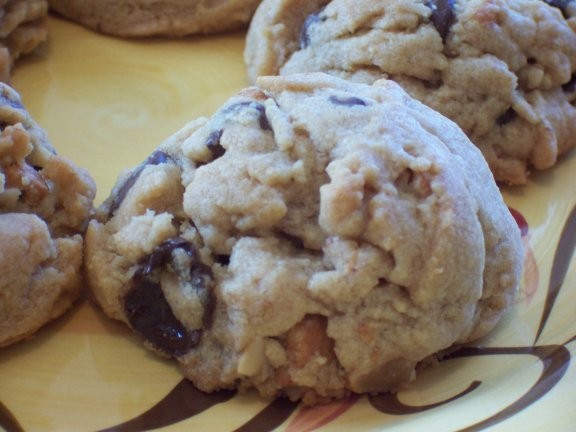 Secret Ingredients
1 cup butter, softened
1 cup dark brown sugar (8oz)
1 cup sugar (7 oz)
1 1/4 cups peanut butter (11 7/8 oz)
1/2 teaspoon baking powder
1/2 teaspoon baking soda
1/2 teaspoon salt
2 large eggs
1 teaspoon vanilla
2 2/3 cups flour (11 1/4 oz)
1 1/4 cups chopped dry roasted salted peanuts (6 1/4 oz)
1 1/3 cups peanut butter chips (8 oz) or 1 1/3 cups chocolate chips (8 oz)
Directions
Preheat oven to 350°. Line baking sheets with parchment.
Cream butter, sugars, peanut butter, baking powder, baking soda and salt. Add eggs one at a time. Stir in the flour, nuts, and chips.
Drop by tablespoon onto prepared sheets. Bake for 14 minutes, until set and brown around the edges. Remove from oven and cool on pan 5 minutes before transferring to wire racks to cool.