Secret Ingredients
6 medium potatoes (2 lbs)
1/2 cup finely chopped onion
1/3 cup sweet pickle relish
1 1/4 cups mayonnaise, Helman's preferred
2 teaspoons sugar
2 teaspoons celery seeds
2 teaspoons vinegar
2 teaspoons mustard, Maille preferred
1 1/2 teaspoons salt
2 eggs, hard-boiled, coarsely chopped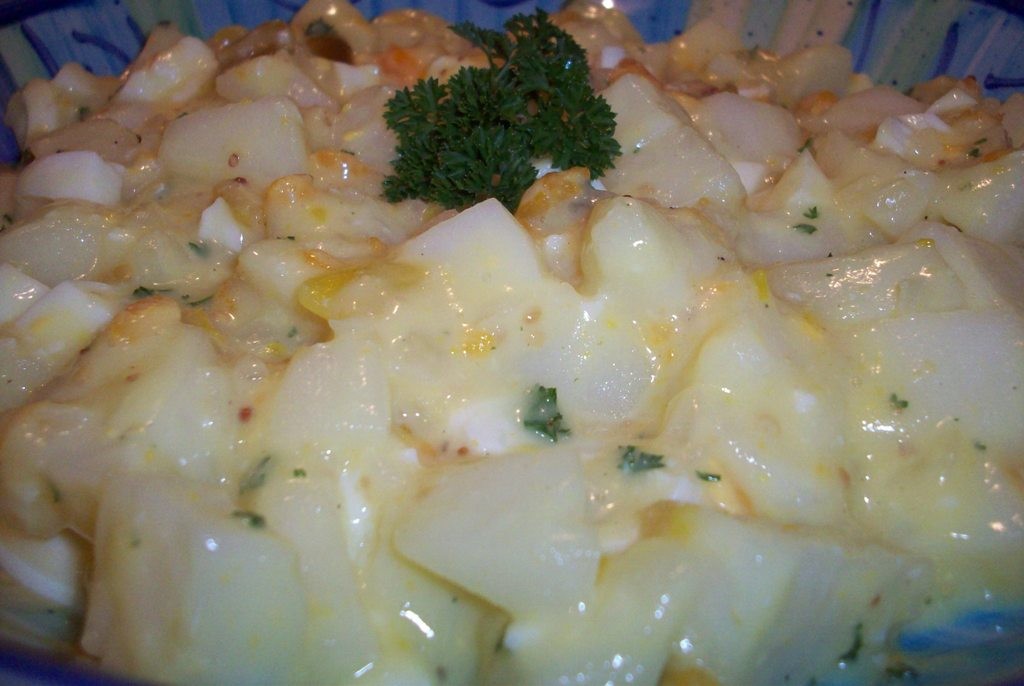 Secret Ingredients
6 medium potatoes (2 lbs)
1/2 cup finely chopped onion
1/3 cup sweet pickle relish
1 1/4 cups mayonnaise, Helman's preferred
2 teaspoons sugar
2 teaspoons celery seeds
2 teaspoons vinegar
2 teaspoons mustard, Maille preferred
1 1/2 teaspoons salt
2 eggs, hard-boiled, coarsely chopped
Directions
In a covered saucepan cook potatoes in boiling, salted water for 25-30 minutes or until tender. Drain well.
Peel and cube potatoes and transfer to a large bowl.
Add onion and egg.
Combine mayo, sugar, celery seed, vinegar, mustard, salt, and relish.
Pour over potato mixture and toss to coat. Cover and chill.
Better the second day.